The Great Wyrms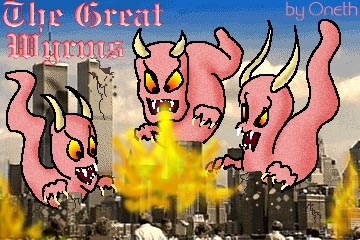 ---
| | | | | |
| --- | --- | --- | --- | --- |
| Team | Played | Won | Kills | Points |
| The Great Wyrms | 44 | 21 | 689 | 1592 |
Sound Scheme: WarCraft
Favorite Terrain Style: Open

---
Bahamut

The ancient and mighty king of the Great Wyrms. Bahamut is wise and powerful, and if you mess with the Great Wyrms, he'll kick your butt!

Worm of the Match
Kills: 7 Damage: 565

Most Dangerous
Damage: 565
Tiamat

The mother of all Dragons, Tiamat has a nasty temper, and a taste for mass chaotic destruction.

Best Shot
Kills: 3 Damage: 220
Smaug

The mighty Wyrm of Lonely Mountain, Smaug likes causing desolation and making big craters.

Worm of the Match
Kills: 10 Damage: 748

Most Dangerous
Damage: 748

Best Shot
Kills: 3 Damage: 158
Ouroboros

The World Serpent: Ouroboros encircles the Earth. Better hope he's not a constrictor.

Worm of the Match
Kills: 10 Damage: 550

Most Dangerous
Damage: 550
Cyan
Bloodbane

An old and sorcerous Wyrm, Cyan Bloodbane loves that good ol' psychological warfare.

Worm of the Match
Kills: 5 Damage: 410

Most Dangerous
Damage: 847
Malys

The biggest, baddest, bitchinest Wyrm to storm Krynn since the Dark Queen left!
Maleficent

Maleficent is a Witch Queen of Wyrms, and she is always in the (bad) mood for stomping enemies and destroying landscapes.

Worm of the Match
Kills: 4 Damage: 456

Most Dangerous
Damage: 456
Puff

That's right, Puff. Don't let his sweetness and cute demeanor fool you. Little guys try harder, and Puff can blow you away!
---
Click here to return to Oneth's Worm Battalions