Giblets Club Snapshots

---
Drakan Page

Drakan Screen Shots

Drakan Art
---
These are some pics I snapped in our Giblets Club games. They are edited, with amusing quips added. If you see yourself here and think you are portrayed in a bad light, let me know, and I'll take your pic down!
---
?????!!!!!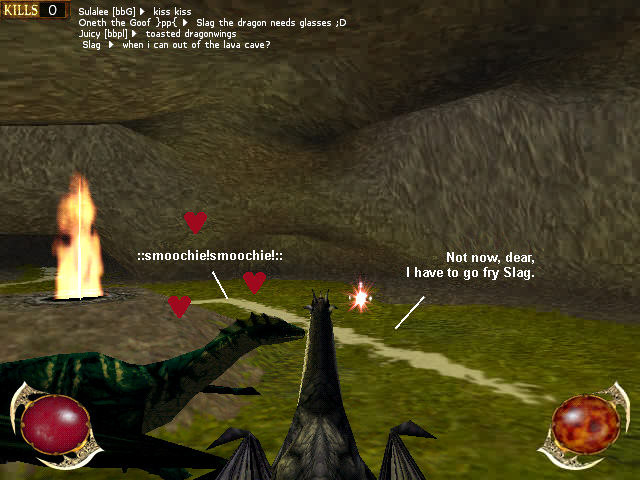 2K07.15
Who's that, smooching in the Alwarren Lava Cave!?!???!??!!!?!?!? ;D (I told yas we was a friendly bunch!)
---
Hack Martin & Oneth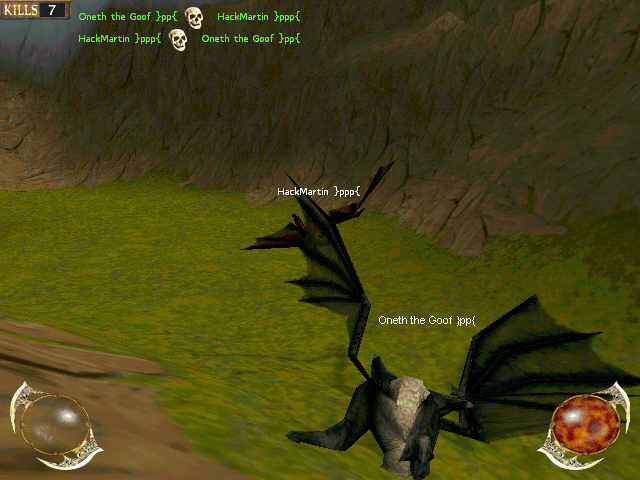 2K07.19
Well, this is typical! Me and Hack, lying down on the job again. :] (We ain't got nothing better to do, Sulalee and Baldra are off doing a Dragon Conga line and won't let us flame them, cuz they keep getting booted!)
---
2K07.22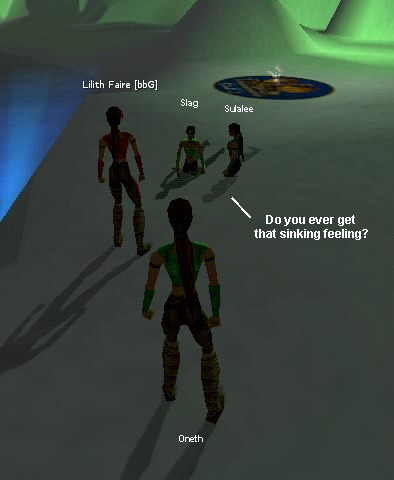 This is the Cool Duel level. I guess some people think it's fun to be half in the ground. I usually try to run over and step on their heads! :]
---
2K07.22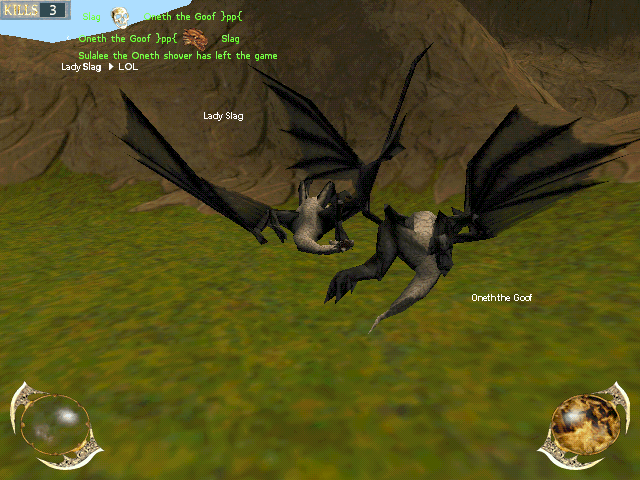 Hack's not the only one who dies killing me. This time, it's Lady Slag!
---
2K07.22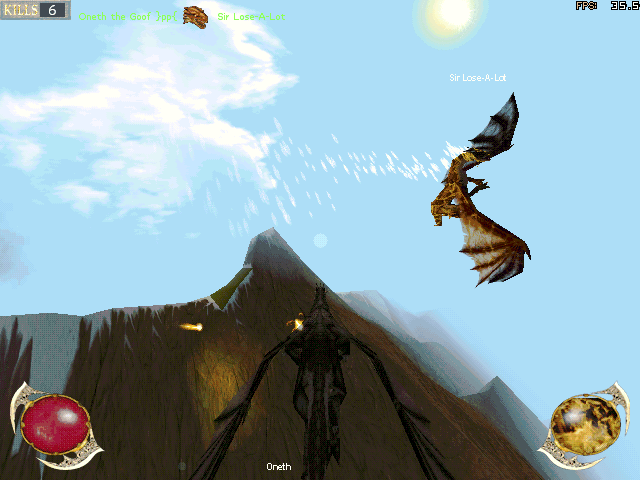 Doesn't he make a pretty comet? :]
---
2K07.22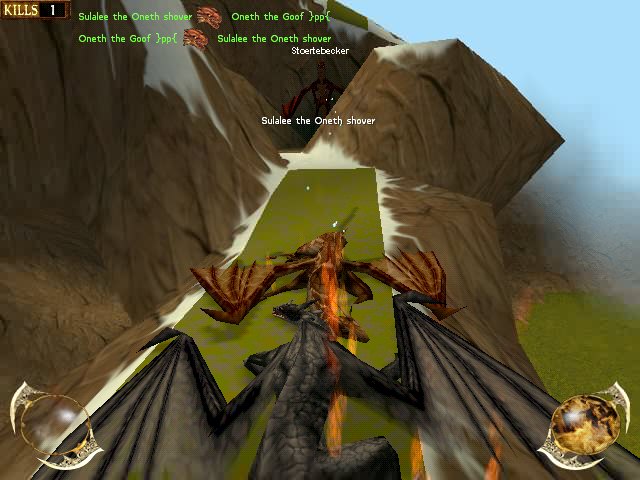 Yep. Again! But don't we look cute together? Stoer was blasting both of us, can't figure out why he didn't get the kills. (Stoer started it, Sulalee, honest!!)
---
2K07.22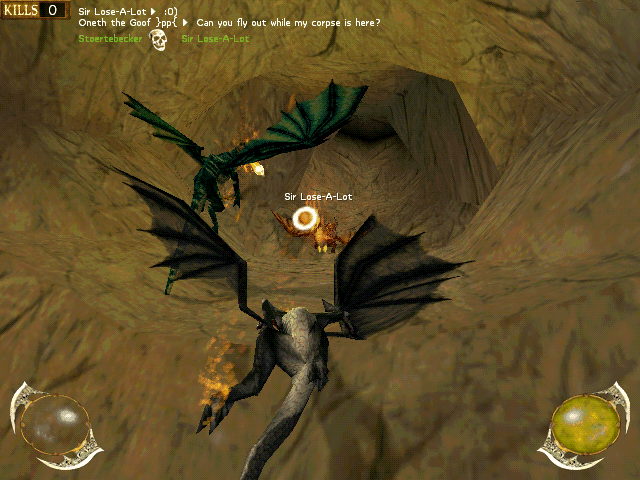 Mass Chaotic Death! Sir Lose-A-Lot killed me, then Stoertebecker killed him. Then Lady Slag flew in and killed Stoer! ...And then she went in, got the lava, and got stuck in the wall. I hadda blast her out! LOL!
---
2K07.22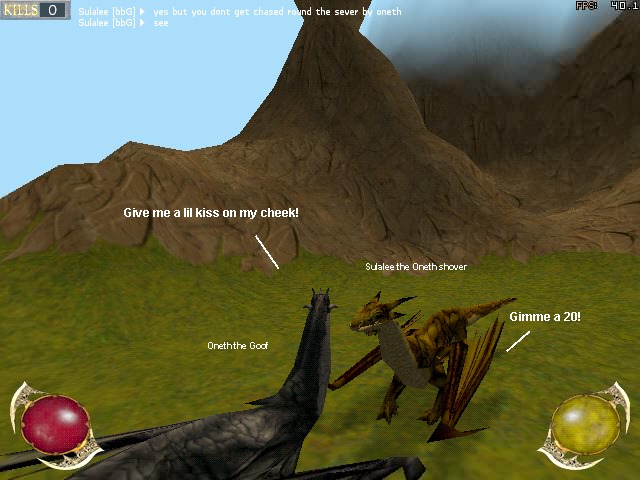 Ah, she's mad about me! :] Sulalee says she doesn't like being a dragon, but I think I can turn her around.
---
2K07.22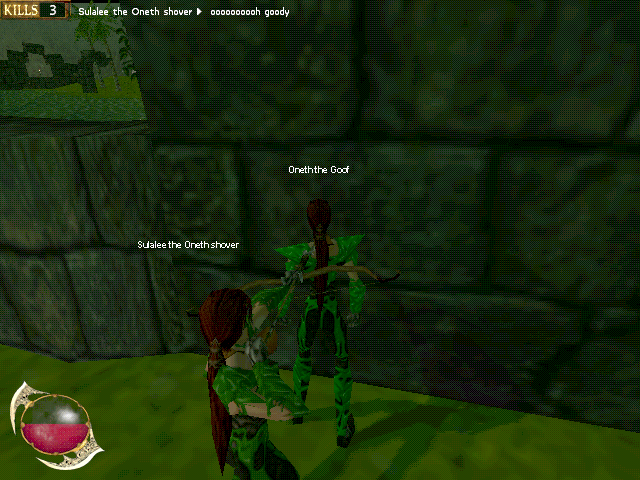 Oh, this is going to hurt....! Sulalee, don't you know it's not nice to sneak up on guys who are standing against the wall? (Luckily, in this game, we're all women... ;] )
---

Page Three
---


back to Drakan page